Khinloke had over 30 years of experience in the Futures and Equities Industry and has worked as a LOCAL trader on the SIMEX trading floor before becoming a Remisier with Lim and Tan Securities.
In 1999, Khinloke launched his training career by conducting examination preparatory classes for the IBF 'Dealer's Representative' exams. He started providing training for the CMFAS module exams in 2003 as well as training for the CACS paper 1 and 2 for private bankers from 2011, promptly after IBF and SCI adopted the examinations.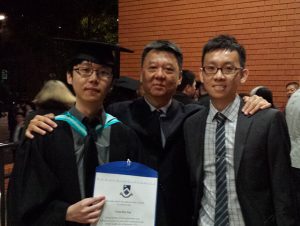 Khinloke has coached people at all levels, from non-financial freshman to Directors, seasoned traders and CEOs of Banks and Assets Management Companies; many of whom are internationals on secondment or permanent transfer to their Singapore offices.
The first attempt pass rate of Khinloke's students has been consistently above 90%. To date, more than 3,000 individuals have successfully passed their examinations after attending Khinloke's training.
Banks that formally engage Khinloke's training services include: JP Morgan, Goldman Sachs, Morgan Stanley, Credit Suisse, Citi Bank, ABN AMRO, Bank of Singapore, CIMB, UOB Bank, DBS, ANZ, CLSA Singapore, Nomura Singapore, INTL FCStone, Daiwa Singapore and many others. A large number of individuals also go direct to Khinloke seeking training, irrespective of their Company's official training arrangement with him.
From our clients and students
Course Feedback / Testimonials
Sep 2017 Karl Ngo - Western Union

" Khin Loke is a very experienced, dedicated and patient coach. Without him, I'll never even dream of passing my M6A on 1st attempt. His detailed yet concise coaching streamlined my average studying time by more than 60%. He never ran out of examples to explain, and to be honest I acquired more knowledge than what I signed up for.

On the other hand, I regretted paying for other sites which claim moneyback guarantee, it's all gimmick, DO NOT waste your money and time. Bottom line, engage Khin Loke. He is hands down the ONLY credible and qualified coach locally. In fact, saying he is qualified is an understatement. His coaching boosted my confidence on my 6A which resulted an one-time pass with result (80-100) and i believe I've scored at least 90%. Result and fact doesn't lie. If i knew him earlier, I would have engaged him for all my papers! Thank you sir! "

Jul 2017 Jenny Lim - BOS

" Khin Loke's lessons are focused and enable you to understand the logics and requirements of the IBF CACS paper 1 and 2 very quickly!

After going through his lesson, me and friends are able to pass both papers with ease the 1st time! His tutorial questions and mock exam questions can be completed via mobile and whilst we are on the go – very convenient!

Khin Loke also developed the lessons in a very fun and engaging manner so it makes taking the test fun! Highly recommended. "

Jul 2016 Charly Chai - INTL-FCStone

" Khin Loke made a valuable contribution to my learning and exam preparation (M6A). With no finance work experience, I was required to be tested on a few regulatory exams. My goal was to take the exam sooner rather than later. My company hired Khin Loke for tutoring session, which were completed in two weeks. I was pleased and happy to pass the exam on the first go.

Khin Loke is not only extensively knowledgeable and experienced, but he is also an exceptional instructor who is able to explain complicated concepts in a time-efficient and easy-to-digest manner. For these reasons, I give my sincere and strong endorsements for Khin Loke for anyone who needs exam-preparation and wants to learn financial instruments. "

Leng Sze Min Anterina - CBPWD

" Khin Loke is a very knowledgeable & dedicated trainer, he knows the syllabus very well & highlighted the points to look for exam question making it much easier to focus on important points when reading the notes. "

Tan Wah Ching Elicia - RPB

" Khin loke is a great lecturer who gives very good and useful information. Very exam focused. "

Florence Leow Hai Fuang

" Speaker is very exam orientated, going through sections which are relevant in the context of examination. He also shared his real life experiences as a remisier which made it easier for us to relate to this course.  "

Justyn Ang Chiu Diann

" The course is very well conducted. Lecturer is a dynamic speaker, with vast amount of knowledge; he captured the class attention & delivered the lesson in an interesting manner through sharing of real-life experience. "

Lui Shujun - CBPWD

" KHIN LOKE IS A VERY PROFESSIONAL LECTURER MAKING THE LESSONS VERY INTERESTING AND EASY TO ABSORB ALL THE INFORMATION IN JUST 5 LESSONS. THE NOTES AND MOCK EXAMS COME IN HANDY AS WELL BECAUSE IT SUMMARISE ALL THE IMPORTANT POINTS! "

Lau Pei Ling Sheevonne - BTB

" Khin loke is very clear and precise in his teachings and is very knowledgeable in the industry "

Candy Quek Nelly

" Khin loke is great, really know very well about the industry, very helpful, suggest to use him for M5 tutorial, he can help many to pass that even by 1st attempt (I'm so sorry he wasn't my tutor for M5 so I'd to retake, after ask him for help, I pass "

Luah Suat Lian - PB

" Overall very good. Khin loke was not only interesting to listen to, he was also very exam focused and highlighted those questions that would come out in the exams "